Programme Description
The PG VLSI course provides advanced learning of the specialized area and thus prepare a human resource possessing advance knowledge in the field of VLSI design.
Aims and Objectives
M. Tech. in VLSI Design graduates will be able to:
Independently carry out research /investigation and development work to solve practical problems related to VLSI Design.
Write and present a substantial technical report/document in the field of VLSI Design.
Demonstrate a degree of mastery over the areas of VLSI Design. The mastery should be at a level higher than the requirements in the bachelor's in Electronics & Communication Engineering.
Propose and execute optimal solutions for problems in the field of VLSI design.
Apply appropriate methodology and modern engineering/IT tools to meet the international standards in the area of VLSI design.
Acquire integrity and ethics of research to execute projects efficiently.
Programme Highlights
Industry oriented course is designed for VLSI Design
Students are open to pursue 1 year internship at industry
Maximum CTC offered in this PG branch in the ECE department
Details of Laboratories and Research Facilities
Name of Lab: VLSI Design and Simulation Lab
Digital CMOS IC Lab
System Design Lab
Tools Available:
Cadence R&D bundle, Cadence PG bundle
XilinxVivado
Internship and Placement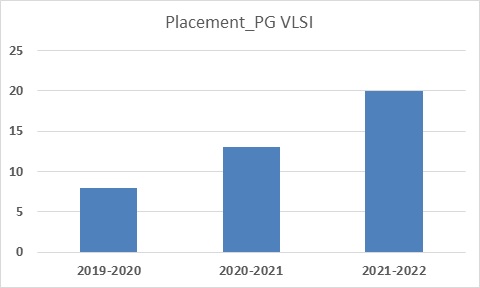 A large number of students go for one year industrial internship in VLSI Design course.
This year approximately 90% are pursuing internships at various core companies across the country.
IEEE Societies & Chapter Details
IEEE EDS Chapter
IEEE APS Chapter
IEEE Student Chapter
IEEE WISE Chapter
IEEE WIE Student branch Chapter
Contact Details
Dr. Menka Yadav
Phone: 9549650791,
E-mail: menka.ece@mnit.ac.in