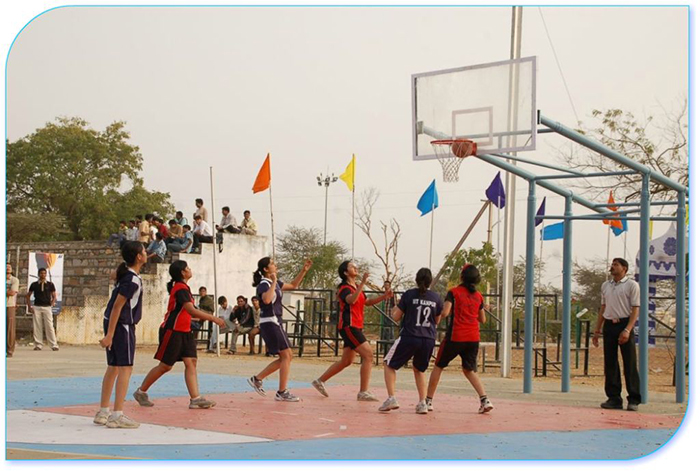 There are 04 cemented Basketball courts (2+2) available according to the FIBA (Federation International Basketball Association) standard with sufficient space and sitting capacity around. Two central courts are equipped with floodlights, and the other two are in front of the Aurobindo Hostel. Students participate in the inter-branch tournament, invitational tournament, MST, All India inter NIT Basketball Tournaments, and the All India Advani Basketball professional players Tournament. The Institute team won many laurels for the institute at different levels.
Whether you've been playing for years or have never picked up a basketball, we welcome you to our team.

The competition is being conducted under the rules of the Basketball Federation of India (BFI) (www. https://www.basketballfederationindia.org/), unless otherwise modified by the organizer.

Basketballs: BFI-approved Balls are being used during practice, Inter-branch Tournaments, andthe All India inter NIT Sports Tournament.

It is the responsibility of each respective branch Team to play in playing Kit during the Inter-branch Tournaments.

Coloured T-Shirts, Shorts and Shoes will be used duringpractice and other Tournaments.

The Inter-branch Tournaments Teams comprises 10-members (Boys and Girls separately) only.

The Institute Team for the All India Inter-NIT Basketball Tournament comprises 12-members maximum and a Coach and Manager.

Institute will bear all the expenses to participate in the All India Inter-NIT Basketball Tournament in the country, including Sports Kit, Track Suit, Travelling expenses, Refreshments, and dearness allowances.

Criteria to be part of the institute Basketball Team is performance-based, regular practice with Team members, and recommendation of the Sports Officer/ Coach.

Finalists (Champion & Runner's Up) of inter-branch Basketball tournaments will be rewarded with a Souvenir/ Trophy and a Diploma Certificate.

Apart from regular Basketball, students organize (03 on 03) three Three Basketball Tournamentwhere more students participate with full enthusiasm and motivation. Modified rules and regulations are being implemented.