Facilities Plan
Central Computer Centre and Digital Library
Development of State of art Computer Centre and Digital Library which is to be one of the biggest in the state of Rajasthan. It will facilitate more than 1000 workstations for the students to tease their young minds for hands on training and research. Central Computer Centre is to go for an extension of resources to cater to the need of around 5000 users comprising of students, faculty and staff personnel at centralized place housing over 1000 intelligent units. Availability of computational resources and services via a stable and widespread campus wide network shall always remain a compulsion. Achieving 24x7 resource functionality and availability is the motto of this expansion plan. The work has already begun with the addition of two floors on the existing Design Centre building having carpet area 8000 m2.
Convention Centre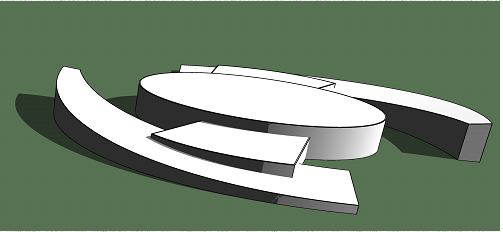 At present a mini auditorium which can accommodate only 150 students is available which is too small looking into the level of events of national and international repute is organized in the institute frequently. The Institute may soon cherish their dream of having a Convention Centre on campus with the work being in progress in finalizing the concept and proposals of the same. This shall include a major auditorium of 2000 capacity together with two of 500 capacities each.
Plan for Communication Infrastructure
The institute has gigabit network based on fibre-optic backbone available with 155 Mbps connectivity available through BSNL. The institute is going to have in near future complete wi-fi connectivity as a back up to existing wired network. The state of art IP based telephony, both wired and wireless will provide seamless voice communication throughout the campus.
To interact with experts worldwide and to gain from their experiences, a high – definition video conferencing facility will also be integrated with the internet backbone. The campus will also be made complete intruder proof with surveillance cameras installed at all locations with suitable monitoring.
Development of sports facility
Present sports infrastructural facilities of the Institute are inadequate to accommodate increased students strength. It is proposed to develop Cricket pitches (4 nos.), Volley ball courts (4 nos.), Basket ball (2 nos.), Tennis court (4 nos.) and Squash court (2 nos.).